Vistara turns seven, crosses major milestones of 50 aircraft strong fleet and 30 million passengers
---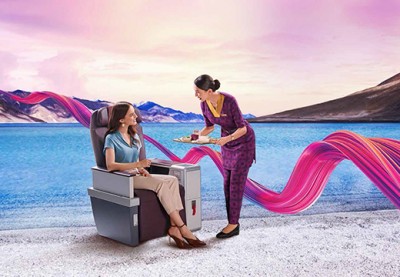 Delhi, 10 January 2022: Vistara, India's finest full-service carrier and a joint venture of Tata group and Singapore Airlines, celebrated its seventh anniversary on 09 January, 2022 and announced key milestones of having flown 30 million passengers since inception and 50 aircraft-strong fleet.

Even as Vistara navigated the aviation industry's worst-ever crisis, COVID-19, it continued to grow in a measured way towards its vision and long-term plans. The airline registered a growth of 3.3 percentage points in market share, since July 2020, having grown from 4.2% (in July 2020) to 7.5% (in November 2021). Vistara expanded its fleet by over 25% since April 2020, to have 51 aircraft in its fleet as on date, and has significantly grown its global network to include seven new destinations across Asia, Europe, and the Middle East. The airline also ensured that all 4000+ jobs at Vistara remained protected from the impact of the pandemic.

Vinod Kannan, Vistara's Chief Executive Officer, said: "Our achievements are a testament to the trust that millions of passengers place in us on every flight, every day. Vistara entered the aviation market at a time when many in India believed that there was no place for another full-service airline, and yet, in a remarkably short span of time, it became 'India's best airline'. This success is a direct result of the incredible passion and dedication of our colleagues in everything they do, regardless of the circumstances. All of us at Vistara are truly grateful to our customers, partners and shareholders who have supported this dream of building a world-class airline that India can be proud of."

Over the last two years, the airline has also introduced multiple product and service enhancements, including but not limited to on board WiFi connectivity, Gate-to-Gate service, fully-flat beds in Airbus A321neo aircraft and Boeing Dreamliner 787, providing a premium and world-class flying experience to travellers.

Demonstrating that the safety of all passengers and staff is at the heart of Vistara, the airline took several steps, altered many processes and intensified sanitization efforts to maintain the highest safety & hygiene standards on all its flights. Vistara also took several initiatives to get their staff inoculated against COVID-19 and has managed to get 100% of its crew and more than 95% of its total staff take both shots of the vaccines. It is also the first Indian airline to have operated flights with fully vaccinated cabin crew and pilots. Vistara also introduced two award-winning campaigns, #FlyingFeelsSafeAgain and #FlyerCODE, that were devised to generate awareness and influence positive behavioral changes in travellers, ensuring a comfortable and safer air travel experience.

Vistara is India's highest-rated airline on Skytrax and Tripadvisor and has also been the winner of several 'Best Airline' awards besides being lauded for cabin cleanliness and safety standards. Below is a list of key awards won by Vistara since April 2020 till date.

Best Airline in India & Southern Asia by World Airline Awards by Skytrax 2021
Best Airline Staff in India & Southern Asia by World Airline Awards by Skytrax 2021
Best Cabin Crew in India & Southern Asia by World Airline Awards by Skytrax 2021
Highest rank in India for Cabin Cleanliness by World Airline Awards by Skytrax 2021
Favourite Domestic Airline by Conde Nast Traveller Readers' Travel Awards 2020 & 2021
Best Domestic Airline (India) by Travel + Leisure India's Best Awards 2020 & 2021
Five Star Major Airlines in the World by APEX Official Airlines Ratings 2020
Best Airline – India by Tripadvisor Travellers' Choice Awards 2020
Travellers Choice Regional Airline, Asia by Tripadvisor Travellers' Choice® Awards 2020