Vistara UK Travel Advisory← Back
---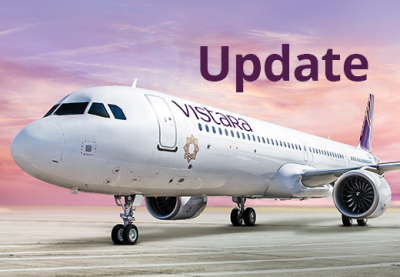 Dear Travel Agent Partner,
As per the latest guidelines by UK government, only British, Irish and third-country nationals with residence rights will be allowed to travel to the UK.
All passengers must quarantine in a government-approved hotel quarantine facility for at least 10 days, which must be pre-booked before travel.
During this period, passengers will be required to take COVID-19 tests on or before day 2 and on or after day 8 of their stay. Shortened quarantine period is not allowed on receipt of a negative test result or through the Test to Release scheme.
Please refer https://www.gov.uk/guidance/booking-and-staying-in-a-quarantine-hotel-when-you-arrive-in-england for more details.
Categories of passenger permitted to travel to the UK following red-listing on Friday 23/04 0400 BST:
British Citizens (including those with dual nationality)
Irish Citizens (including those with dual nationality)
Individuals with protected rights by the saved EEA regulations, including:

Those with a right of permanent residence under the saved EEA Regulations
Holders of EU Settlement Scheme ("EUSS") leave
Those who hold an existing qualification under the terms of the 'Withdrawal Agreement'
Family members of EEA nationals with rights under the 'Withdrawal Agreement'

Third country nationals who are resident in the UK. For these purposes those with residence are defined as:

Holders of settlement (indefinite leave)
Holders of existing permission to enter or stay remain, or an entry clearance that grants such permission e.g. students, workers, etc (excluding visit visas)

Crew of unaccompanied freight, where crew will be expected to stay on the vessel or plane - Crew disembarking from the aircraft/vessel and planning to enter the UK will be subject to the passenger locator form (PLF) and self-isolation requirements, and also subject to the entry ban if they are visitors (not UK or Irish citizens or third country nationals with residence rights in the UK).
Diplomats
Passengers arriving via Common Travel Area (CTA) routes
Hauliers who have departed from or transited through Portugal in the last 10 days
Newly issued 90-day BRP vignette holders where leave has not yet been activated
Short term study visa
ODWs holding valid visas if travelling to the UK with the employer, their partner or children
The Department for Health and Social Care (DHSC) has contacted us regarding up to one thousand nurses per month over the next six months who will be travelling to the UK from India to work in the National Health Service.
The DHSC are keen given the red-listing and flight cancellation situation in India that these essential workers are not held up at boarding.
To note:
The nurses will be exempt from Government quarantine on arrival in the UK, as they will be allowed to quarantine in NHS-provided accommodation;
They will hold Health and Care Worker visas, guidance available at: https://www.gov.uk/health-care-worker-visa
To demonstrate eligibility for exemption nurses will have (and be prepared to show at departure and immigration) a copy/online provision of:
A letter of exemption from their employing NHS Trust which will include:

the nurse's name and date of birth
passport number
certificate of sponsorship number
name of employing Trust and Trust contact number
Date of arrival and arrival airport.

A sponsorship certificate issued from the same NHS Trust to include:

the nurse's name and date of birth;
passport number
name of the employing NHS Trust
Passport Number
Passengers are also required to complete a Passenger Locator Form and carry a Covid negative test result taken no more than 3 days before departure.
We appreciate your understanding and cooperation.
Sincerely,
Team Vistara
TATA SIA Airlines Limited